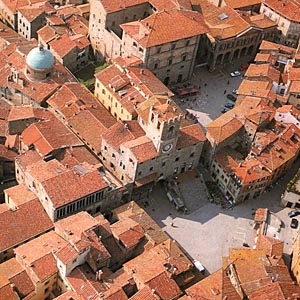 L'hotel Villa Marsili si è aggiudicato diversi prestigiosi riconoscimenti internazionali dalle community di viaggio Tripadvisor e Trivago: primo albergo italiano nella classifica dei Best luxury hotels, il 4 stelle cortonese è al secondo posto nella top ten del lusso in Europa. Il presidente degli albergatori aretini Gianni Fabbrini: "un orgoglio per la nostra categoria. La ricettività locale punta a buon diritto all'eccellenza". Il direttore di Villa Marsili Stefano Meacci, membro del consiglio direttivo degli albergatori di Confcommercio: "un traguardo conquistato con l'impegno"
Si trova a Cortona uno degli alberghi più lussuosi del mondo. È l'Hotel quattro stelle Villa Marsili, che compare in terza posizione, preceduto solo dall'Aria Hotel di Praga e dal Layano Resort di Ko Lanta in Thailandia, nella classifica mondiale Travellers' Choice Awards 2009 stilata da Tripadvisor (www.tripadvisor.it), il sito internazionale dedicato ai viaggi, con oltre 25 milioni di visitatori mensili, più di 20 milioni di recensioni e 10 milioni di iscritti.
La classifica viene redatta ogni anno in base alle opinioni inviate spontaneamente dai frequentatori del sito, tutti viaggiatori per lavoro o per diletto che esprimono giudizi sulle strutture ricettive che li hanno ospitati in giro per il mondo.
Fra gli altri alberghi italiani che compaiono dopo il Villa Marsili nella hit parade mondiale del lusso, il primo è il Villa Carlotta di Taormina, ma soltanto in tredicesima posizione. L'hotel cortonese è poi riuscito a conquistare altri prestigiosi riconoscimenti internazionali: al secondo posto nella top ten del lusso in Europa sempre secondo gli utenti di Tripadvisor, secondo un'altra famosa community virtuale di viaggio, Trivago, è il miglior hotel a Cortona per amanti della cultura e per famiglie, al secondo posto come miglior hotel 4 stelle in Toscana, al settimo tra i top hotels italiani.
"Che l'ospitalità alberghiera mondiale abbia punte di eccellenze proprio nella provincia di Arezzo è per noi motivo di grande orgoglio – dichiara Gianni Fabbrini, presidente provinciale degli Albergatori di Confcommercio – la nostra categoria negli ultimi anni si è data molto da fare per crescere sia nella professionalità sia nella tipologia di servizi e strutture offerte ai clienti. Adesso l'ottimo piazzamento conquistato a livello internazionale da un hotel cortonese sottolinea il livello acquisito dalla ricettività locale".
"Stando ai commenti dei tanti utenti di Tripadvisor – racconta Stefano Meacci, direttore di Villa Marsili dal 2003 e membro del consiglio direttivo dell'Associazione provinciale Albergatori – la nostra struttura è stata premiata per l'atmosfera, la qualità dell'accoglienza, il gusto dell'arredamento, la cura dei dettagli, la pulizia ma anche per la location, visto che si trova in una città splendida e amatissima dagli stranieri come Cortona. È questo il lusso che offriamo, quello di vivere un'esperienza nella bellezza sentendosi accolti come a casa propria. Per il resto, non abbiamo rubinetti d'oro nè altre stravaganze da ultramiliardario eccentrico!", sottolinea Meacci, 40 anni, cortonese di nascita, con un nutrito bagaglio di esperienze professionali nel turismo collezionate tra USA, Germania e Inghilterra.
L'hotel Villa Marsili è dotato di 26 stanze, di cui tre suites, per un totale di 48 posti letto. Ricavata all'interno di un palazzo signorile del Settecento, nel sito dove sorgeva un antico complesso ecclesiastico, la struttura è stata aperta nel 2001 da tre famiglie cortonesi e attualmente offre lavoro a dieci persone. "Dagli addetti alla reception ai camerieri ai piani, tutti frequentano corsi di aggiornamento periodici – spiega il direttore – la formazione continua è uno dei segreti per conquistare i nostri ospiti. Per la quasi totalità sono stranieri, americani soprattutto, e quando si ha a che fare con persone di cultura diversa dalla nostra oltre alla seconda lingua non guasta conoscere anche le tecniche di comunicazione". I commenti inviati dagli utenti di Tripadvisor confermano che Villa Marsili ha centrato l'obiettivo: "staff eccellente per un hotel eccellente" , "un posto meraviglioso", "vicino alla perfezione", "assolutamente da consigliare", "un posto delizioso in una città deliziosa", "pieno di fascino", "forse il miglior hotel in Toscana" e via così tra nostalgici ricordi di viaggio e dettagli sullo splendore dell'arredamento, l'abbondanza della colazione, la cortesia del personale, le meraviglie da visitare tutto intorno.
"Spero che i premi ottenuti da Villa Marsili contribuiscano a far conoscere il nostro territorio – conclude Meacci – e mi auguro che siano di buon auspicio per la stagione turistica 2009, dopo un 2008 un po' sottotono, ma che pure ci ha regalato tante soddisfazioni consentendoci di mantenere le posizioni acquisite sul mercato". La prova del fuoco per gli operatori sarà la stagione primaverile, con le festività della Pasqua e i Ponti tradizionali del 25 aprile, del1 maggio e del 2 giugno.
Alcuni commenti sull'Hotel Villa Marsili scritti dagli utenti di Tripadvisor
"Wonderful place to stay"
London
We stayed at Villa Marsili for the first week of a 2 week honeymoon. Cortona is a very attractive little town perched on top of a hill, and Villa Marsili is a very short walk from the centre of the town. A lovely hotel (the view from our room was superb), run by some excellent staff (with particular thanks to Iulia, Mirko, and Stefano). The evening aperitivo is a particularly nice touch. Overall a great experience, and we'd certainly stay there again. NB: before booking we'd read the occasional review on this website which noted that the hotel is on the main road into Cortona, but this isn't an issue: traffic going past was light, and certainly didn't disturb us.
"Highly Recommended"
UK
Just got back from 3 days at Villa Marsilli and really enjoyed our stay there. Lovely room, excellent breakfast, really friendly hotel staff (particularly the lady on Reception!), and ideal location for Cortona. Cortona is a lovely hill town and I would recommend staying at the Villa Marsilli if you are planning to go there.
"Close to perfect"
London
This is a small charming hotel run exceptionally well. We had a large lovely room facing the valley with exceptional views. It was so comfortable – the bed was a relief after 5 nights spent in 2 bad beds in other hotels. The room, like the rest of the hotel, was very cleaning & very well maintained. The buffet breakfast was good by european standards. The free evening drink was pleasant & a lovely idea. The staff are very very good. We loved Villa Marsili.
"What else can I add?"
Montreal
I will point form my comments:
-Check in – very professional, friendly, helpful
-Location of hotel – not in centre, a ten minute walk
-Beautiful views
-Rooms don't have balconies, but our room had a lovely front view from the window; there is a terrace in front
-Very impressed with service in room
-Room was well decorated
-Nice turn-down service, chocolate ladybug included
-A champagne reception in the evening (we missed it – we were going to dinner – but it looked nice!)
-Wonderful breakfast, beautiful dining room
-Nice lobby for lounging, lots of sofas, good place to meet and greet
-Great price (and we were three to a room – two adults, one child, age 7. Good value.
I can understand why this hotel is #1 in Tuscany
"Wonderful Tuscan Experience"
New York City
My husband and I stayed here in September for our honeymoon/anniversary. We had a wonderful time and the Villa was a big part of that . The room was very spacious, clean, and had big windows that looked out on all of Tuscany. Every morning we opened the windows and felt like we were in a movie! There was a very nice breakfast spread every morning, and an apperitivi spread every evening. The hotel was just down the block from Cortona town center, which is an INCREDIBLE place! We stayed 3 days and wished we could have stayed a lot longer. Of all of the hill towns in Tuscany, we randomly picked Cortona and it was the best decision we made. The best part of the stay was Villa Marsili's staff. They bent over backwards to find out about wine tours, rental cars, restaurants, etc. for us. One day when we wanted a taxi to a nearby vineyard (Avignonesi — a must go if you're in Cortona), there were none available so one of the staff members drove us 20 minutes to the vineyard in the rain!! We could not believe that she was willing to do that — would never happen in NYC where we live! Thank you Villa Marsili for a great stay!
"Cortona "Bellisimo""
Boston
We have traveled to Italy many times and this is one of the most welcoming hotels ever. Iulia and the other front desk people were charming and helpful. They recommended a wonderful tour of the seldom visited hill towns nearby; among them Lucignano and Gargonza. The room was large by european standards, very clean and the view, outstanding. Benjamin, the bellman, was very helpful as was the entire staff. I am an early riser and when the night staff saw me they immediately offered coffee. Wonderful experience. Go to this hotel if you want a great experience in Cortona
"Lovely place in a lovely city"
Encino, CA
This hotel is located at the entrance of the city. The room was a decent size and very clean. Breakfast was well presented and, while not lavish, very adequate. The person at the front desk (Julia) could not have been more pleasant and helpful; every hotel should have a Julia. I have stayed in many fine hotels around the world – this one is a hidden treasure!
"Everything was superb!"
We loved our stay at Villa Marsili Hotel. I chose this hotel because of reviews on Trip Advisor and was not disappointed. The entire staff was friendly and professional – front desk, porter, maids, and breakfast staff. The hotel is conveniently located with a bus stop very near the hotel. The main eating/shopping street are within a couple of minutes. We got the standard room with a window that opened to the beautiful views of the Cortona countryside. When we go back to Cortona, Villa Marsili is defiantly where we will be staying!
"Great hotel"
Rome, Italy
We had a great stay here. The hotel is very charming and the staff is excellent. Each evening at 7pm the staff provided a very pleasant aperitivo along with some snacks and they also set out vin santo and cantucci in front of the fireplace for a post dinner snack. There were also some tables outside to enjoy your aperitivo. The view from our room (33) of the Tuscan countryside and a bit of Lake Trasimeno was wonderful. Since it was winter during our stay we did not have the window open at night, but the room was on the street side. Breakfast was a nice buffet with a selection of pastries, assorted meats and cheeses, cereal and yogurt.
"Hotel molto bello"
Pioltello, Italy
Hotel molto bello con accoglienza molto cordiale. E' una villa stupenda situata in un paese bellissimo. Lo suggerisco a tutti.
"Totally Outstanding"
Albany, NY
My wife and I visited Cortona for three wonderful days in April of this year and feel Villa Marsili is one of the best hotels anywhere. The staff are wonderful, the rooms are great, and breakfast was delicious. I don't know how you could have made our stay better. The location was easy to find and nearly perfectly located, just a short walk to city center.
The rooms were perfectly clean, glorious views, great beds, easy parking, even the other guests were all wonderful. The staff arranged a personal wine tour of a local winery where the hosts made special arrangements for us late in the day, and walked just my wife and I through the whole location. Can not wait to return!
"Quite possibly best property in Tuscany!!"
San Francisco
Wow, this is a terrific hotel situately perfectly in Cortona! Can't wait to return. We are a family of four on our first trip to Italy, and we are unaminous in selecting the Villa Marsili as our favorite! of the many nice properties we stayed in. The hotel staff and the property are extremely well directed by Stefano. He, Iulia and the rest of the team are warm, caring, thoughtful, efficient and helpful. Stefano, extremely professional, even personally brought me some items I had left in my room, to our next city which was 40 minutes away in Montepulciano. Iulia, who was extremely gracious as well, made all of our touring and dining arrangements, all of which were flawless. The breakfasts were lovely, and the evening drinks/snacks a nice touch that we did not often see replicated elsewhere. The property, a restored Villa, is located a short walk to town – close enough but not in the "swarm" of tourists. In short, a well run, beautiful hotel that is staff edwith a terrific team. I'd not hesitate in recommending anyone to stay there. It was ideal!
No doubt our favorite hotel on this trip and quite possible of any we have stayed in, considering the US and Asia as well.
"Excellent hotel – excellent staff"
Mahone Bay, Nova Scotia
Canada
This is an excellent hotel! The staff are the best I have ever encountered from the cleaning staff to the hotel manager. They do everything to make your stay comfortable and enjoyable. I highly recommend this hotel. The rooms are lovely and the hotel is very clean. The breakfast is great. The absolute best thing though is the staff.
"We loved Marsili – a no brainer!!"
Carrick-on-Shannon, Irlanda
This a wonderful hotel. A fabulous location overlooking the valley below Cortona, and a short stroll up to the main shopping streets and town square. The rooms were beautiful, comfortable and clean.
Julia at reception was so helpful and organised DHL to send a package from another location to us which is no easy task in Italy.
I recommend them on every level
"Elegance in Cortona"
Louisville KY
Recently returned from a two week trip to Italy, where we concluded our visit in Cortona. We chose the Villa Marsili based upon the reviews on this site, and we were very pleased with that decision. The Villa Marsili is not an ordinary hotel, given the quality of the restoration and the rich furnishings,it truly has the feel of a villa.
Both the evening cocktails and the breakfast buffet are a cut above the usual. We appreciated the modern bathrooms. We travelled in a party of 8 ,and had a number of transportation needs. The manager and the staff could not have tried harder to fulfill our requirements. They were also helpful with restaurant reservations. We particularly enjoyed La Bucacia and Trattoria Toscana. We felt like we saved the best for the end of our trip…Villa Marsili
"Clean, Quiet, Accomodating. Perfect in Cortona"
Philadelphia
Stayed for 2 nights towards the end of our honeymoon. Great location in Cortona, close to city center. Excellent staff, very attentive. Very nice complementary cocktail in the evening, nice seating area in front of hotel with view of valley/lake.
"Absolutely charming!"
East Lansing MI
Just delighful. Open the shutters in the morning and look out at the beautiful Tuscan landscape and drink it in! Our room was absolutely huge on european standards with a very well appointed bath. The property is beautiful and right in town for great convienience. The staff is very pleasant. Would go back in a heartbeat.
"Great hotel"
Rome, Italy
We had a great stay here in December 2006. The hotel is very charming and the staff is excellent. Each evening at 7pm the staff provided a very pleasant aperitivo along with some snacks and they also set out vin santo and cantucci in front of the fireplace for a post dinner snack. There were also some tables outside to enjoy your aperitivo. The view from our room (33) of the Tuscan countryside and a bit of Lake Trasimeno was wonderful. Since it was winter during our stay we did not have the window open at night, but the room was on the street side. Breakfast was a nice buffet with a selection of pastries, assorted meats and cheeses, cereal and yogurt.
"Amazing!!!!"
Ontario
We stayed at this hotel while travelling in Italy for our honeymoon. We took the train from place to place and this hotel is very easily accessible if travelling the trains in Italy – a $10.00 taxi ride up the hill and you are there. The staff was so helpful and courteous – anything we needed they helped to provide. We stayed in a room that overlooked the Tuscan countryside – it was breathtakingly beautiful! The room was very nice, large bathroom, extremely clean. Cortona is a quaint beautiful town. We took a private wine tasting tour of Tuscany that the hotel arranged for us – it was on the expensive side but well worth it – we had a private tour guide that spoke English take us around all the little towns in Tuscany in a luxury car – it was a fabulous day. We highly recommend this hotel – great service, beautiful accommodations, fabulous time!
"I coudn't think of staying anywhere else"
Chicago, IL
Spent three nights in late July and could not have been happier. Everything and everyone was wonderful. The room were nicely sized and perfectly furnished.